Working together for a safer Crawley
Crawley and Gatwick Business Watch is Crawley's Business Crime Reduction Partnership (BCRP).
It is a fully accredited scheme that complies with strict protocols and guidelines to allow business members to work together with the Police and Crawley Borough Council to reduce crime, disorder and anti-social behaviour that impacts doing business in the town.
It is funded by annual membership subscriptions and is a member-led not-for-profit organisation.
Crawley and Gatwick Business Watch is one of over 250 Business Crime and Reduction Partnerships operating across the country.
Providing strength in numbers
By bringing businesses together and working with partners, Crawley and Gatwick Business Watch helps connect businesses and security teams to reduce crime.
By creating a strong partnership across the town businesses can help protect and support one another making them a "harder target" for criminals to make the town safer.
Crawley and Gatwick Business Watch provides various initiatives to achieve this aim, including the provision of a number specific watch schemes covering the daytime and night-time economy.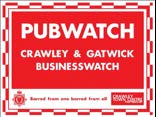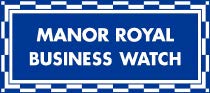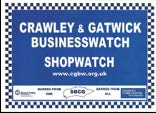 Whether someone is here to shop, work or visit, displaying the Crawley and Gatwick Business Watch logo is a sign of unity and reassurance.
Different arrangements are in place for any business located in the Crawley Town Centre BID area or the Manor Royal BID area, whose membership is paid for by the BID.
Please contact the Business Watch Manager if you have questions.